Russell Street View
Use the - and + on the first map to zoom in and zoom out.
Drag to position on the area you are interested in.
Drag the yellow peg man figure and blue lines will appear on streets that have a Street View.
Drop the yellow peg man figure on a blue line to get a Google Street View of that street.
The street view is shown beside the map or below the map.
Russell Central Map
Russell Driving Directions
Russell Maps
Russell Satellite View Maps
Tour Russell

Tour Russell Area
Ounuwhao B&B Guest Lodge
- Bed and Breakfast.
Overlooking Matauwhi Bay, Onuwhao B&B Guest Lodge offers free Wi-Fi and free afternoon tea upon arrival. It boasts...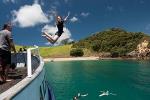 Half-Day Bay of Islands Cruise with Activities from Russell
- Sightseeing Cruise - Russell.
Starting from $115.00 per person
.
Jump on-board for a true kiwi experience!
4 Hours of adventure
Activities
• Snorkelling in amazing...